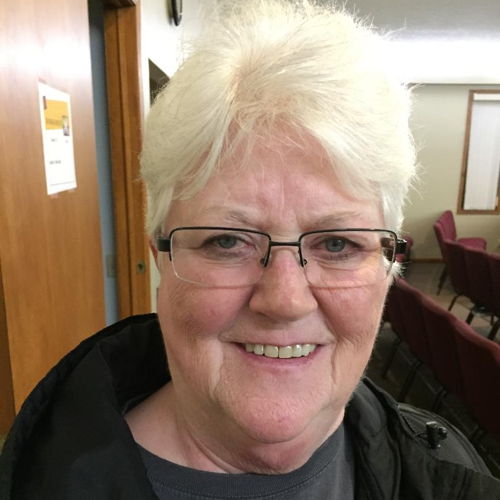 Charlotte J.
from MO
Story #482
I'm Charlotte Jobe, I'm 67 years old, and if I were to describe my life in one word, I would have to say "blessed." Let me explain.

I was born into a family who valued morality, respect for my elders, all people, God and country. My parents worked diligently to instill these values into me and my siblings by the their thoughts, word and deeds. I lived in a small community where everyone knows you and all adults were looking after you and your safety. My family were active members in the church and attendance was a natural event on Sunday morning, Sunday evening and Wednesday night. With so much exposure to Christian influences, it was only natural that I made a decision to follow Jesus Christ at the age of 8. I attended Sunday School, Training Union, Worship Service, Prayer Service, revivals, Vacation Bible School, etc. I had a circle of friends who had similar backgrounds. No temptations, little chance for bad choices.

We left that small town when I was 10 and moved to the country. I had to change schools and make new friends. Again, I was blessed with a circle of new friends who were just like the old ones. Only the names had changed. Throughout grade school and high school, life was good. Again, very few temptations. I studied, read my Bible and prayed daily, regularly attended church services and enjoyed time with my family and friends. At 16, however, during a spring revival service, the evangelist asked the question, "If you died tonight, are you sure, without a shadow of doubt, you would go to Heaven?" That question rocked my secure world. I began to question, did I really understand the decision I had made to follow Jesus Christ at the age of 8? Did I really know what that commitment meant? That night I talked and prayed with my pastor and made sure that my salvation was secure. I haven't doubted that security since.

College was just an extension – new friends, but so similar to those I had always been around.

Fast forward to graduation and entering the "real" world. I secured a good office job in a fairly new manufacturing plant in Sedalia, bought a car, and moved into my first apartment. All of a sudden, I was thrust out of my protective environment, making my own decisions, around people who didn't always see things as I had been taught. About two years into my work career, I started what I call the "slow fade." If you are familiar with the song, "Slow Fade" by Casting Crowns, you will understand how my life began to change. As the song states, the changes came gradually, areas that had always been black or white began slowly fading into grey areas. It started with justifying absence from church. I was working 40 to 50 hours a week, and I was too tired to go to services on Wednesday night. Then I convinced myself that Sunday night services weren't necessary as I had to get myself ready to meet the challenges of the next work week. Before too long I decided that I really didn't fit in any of the Sunday School classes. I was 24 and single, out of school, so I didn't fit with the college kids, I was unmarried so I didn't fit in the couples classes and all that was left were older adult classes. So I quit going to Sunday School. Before I knew it, it became easy to miss Sunday morning worship service. After all, I only had two days in each week to sleep in! My friends from high school and college had married and started families, so my association with them, though not broken, became less and less frequent. My peer group, who had helped hold me accountable for so many years, no longer existed in my everyday life. My parents weren't helping guide my decisions. My new friends and associations were part of the world for the most part. Years before I had set certain boundaries in my life – lines I wouldn't cross based on my beliefs. Well, to say the least, I started pushing those boundaries, a little more with each decision. Each push made the next one easier and the next one easier still. Compromise after compromise, for ten years, the whole time knowing that I was gradually growing more distant from the one I had made Lord over my life. Jesus hadn't moved, I had. I woke one morning, looked in the mirror, and thought, "Who are you??" "I don't even recognize who you have become." I knew I had to set things right. I immediately prayed a prayer of repentance and asked forgiveness for who I had become. I instantly felt a peace overflow me. The second step was to get myself back with the family of believers in my church.

I didn't get a "do over" for those ten years. I wish I could erase them entirely from my life and wipe out the bad decisions that I made. I live with regret. My prayer for forgiveness brought forgiveness from my Lord Jesus Christ, but that's the easy part. He is quick to forgive if we only ask with a repentant heart. It is so much harder to forgive yourself and to forget your past. I continue to work on that part some 40 years later. But in a way, I think that is good. That remembrance helps keep me accountable each and every day. The point I am trying to make here is this – a commitment to follow Jesus Christ is the first step, but Satan will work diligently to pull you away. Satan is like a roaring lion, seeking to kill and destroy. Total commitment requires a "daily" walk with Jesus. Letting him guide your words, your thoughts and your actions is the only true deterrent to the wiles of Satan. Close communion with Jesus through prayer, bible study, fellowship with other believers, etc., make the daily walk so much easier.

Since that day and that prayer for forgiveness for straying, the blessings are still coming. I had a profitable career, a home, friends, family and a God who loved me. Life couldn't possibly get any better. Then God sent me Stan - a good, decent man I had known as a coworker for over 30 years. We married and life took on new turns. I now had been blessed with not only a husband, but a family of my own. Not too many women can say that on their wedding day, they became a wife, mother and grandmother on the same day! I joined his church and we began serving together.

I am not here to say that I haven't had my trials, that I haven't suffered heartbreak and loss, that I haven't slipped and done the wrong thing, thought the wrong thought, said the wrong thing, or that life has always been a bed of roses. But I can say that as promised in the Bible in Deuteronomy 31:6, "…the Lord your God goes with you, he will never leave you nor forsake you." I hold fast to that promise. I see evidence of his power and work in my life each and every day. He is an ever constant presence in my life, and I shudder to think of facing a single day of this life or eternity without Him.

I am a firm believer in wellness checkups. I had talked with my doctor on numerous occasions over several years that I often experienced a feeling like my heart was fluttering. Each time he examined me, however, he didn't detect anything. On my last annual exam in August 2017, however, he detected what I had been describing. After a heart scan, he confirmed that I had AFib, a condition which makes my chances of stroke or heart attack greater. He placed me on a blood thinner to ward off clotting, but told me that the medicine would not cure the fluttering. My chances were great that at some point in time my heart would have to be shocked to get it back into rhythm, but that would not be a permanent fix to my condition. There was no absolute fix. I would have to live with this the rest of my life. I left the office feeling as though I was a walking time bomb. After all, my mother had had a stroke and died, my dad died of congestive heart failure, my grandfather had died of a heart attack. I wrestled with those thoughts for about a week, thinking will it happen today? I woke up one morning with a revelation – what is wrong with me? I am a child of the King – Jesus Christ, the great physician, a healer! Where is my faith in this crisis??? I immediately read James 5:13 -- "Is any one of you sick? He should call the elders of the church to pray over him and anoint him with oil in the name of the Lord. And the prayer offered in faith will make the sick person well; the Lord will raise him up." I called my Pastor and told him that I would like for the elders to anoint me with oil, and pray over me for a healing. That took place the next Sunday, and I am here to tell you that I have been healed. There have been no occurrences of AFib since that August day! All I can say is Praise the Lord! There is nothing too big for my God!

My God is in the forgiving, healing, comforting and saving business. I am so thankful the Lord never gave up on me and continues to bless my life each and every day. He is always, always faithful! I'll leave "My Story" with my favorite scripture – Jeremiah 29:11 – "For I know the plans I have for you," declares the Lord, "plans to proper you and not to harm you, plans to give you hope and a future. Then you will call upon me and come and pray to me, and I will listen to you. You will seek me and find me when you seek me with all your heart. I will be found by you," declares the Lord, "and will bring you back." What a promise, what a gift – and it is offered to all mankind!!

I encourage you to not face another day without Him!!
---
Click here to send a direct email to Charlotte.
You can learn more about Charlotte
here
.
The above link will take you to a site not related to 1MillionStories.org. We do not endorse opinions expressed on external websites due to the inability to properly review the content of every linked site.