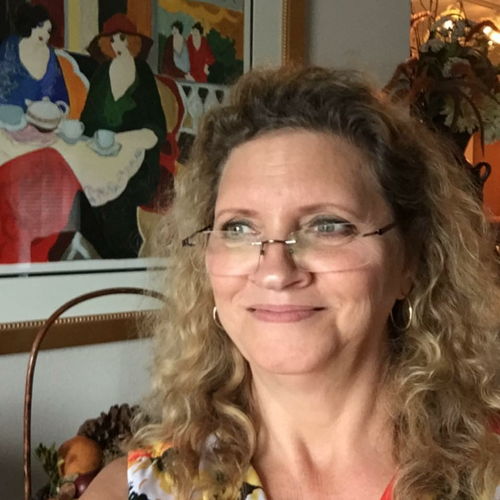 Rojennia B.
from MO
Story #539
First, I have to say it is so wonderful to have this chance to share my story. For me the story starts at the beginning. From my youngest of years, I have always felt the presence of the Holy Spirit in my life, but it wasn't until I came to the realization that I had to accept Him as my Savior, did my life truly change.

Let me say that I came from a divorced family. I love my mother, but she went through some very dark times, which affected us both. Mom struggled constantly to make ends meet, while my father and my step family seemed to have it all. Over time my mother found refuge in the bottle, and men. It all went downhill from there.

But God was always there. My mother cared for elderly people for a living; fortunately, several were faithful Christians, including a cousin of my mother's, who helped around the house with odds and ends. Two people in our home helped me see that there is always a better way.

First was my mother's cousin, Ruth. I remember long straight beautiful hair that she would take out of the bun the from top of her head and brush 100 strokes nightly. She was a quiet soul that seemed to have such a peace about her. She would meet me after school to walk me home every day. She would take me to her church, which I loved. It was a small intimate place of worship, that was always filled with people full of joy for the Lord. At home there was turmoil and often parties that a young child should never be witness too. Church was a place filled with peace and love.

Then there was Mr. Mead. A retired railroad worker that my mother cared for. He would spend his extra time reading his bible. There were times that he would call me into his room when my mother was having a party. He would say, come in here with grandpa Mead and let me tell you a story. He would tell me the stories of Noah and the Ark, David and Goliath, and Jonah and the Whale. He was a refuge as well.

Then one day my mother had a stroke, cerebral hemorrhage, which is inherited in our family, but the excessive drinking and cigarettes were no help in the situation. Mom became fully incapacitated for a year. Mr. Mead, my mother and myself went to live with my aunt Helen. Although the environment was 100% better for all of us, Mr. Mead's health was not the best. Before he died, he gave me his bible, which I still have to this day. He told me to always remember the stories he had told me; read for myself and listen. "If you let God guide your life, you will always be safe", he said. He was so right!

Over time mom recovered enough that we moved out to our own home again. I met a dear friend that invited me to her church. It was very similar to the church that Ruth had taken me. I accepted Christ at the age of 13 years. However, in my later teenage years, I should have been identifying as a Christian; but no, I grew up, dated boys, started drinking (like my mother) and running with the wrong crowd. The whole time, the Holy Spirit convicted me of my wrongs. I was trying to ride the fence of right and wrong and it was getting me nowhere.

I met a young man, we fell in lust, and decided we wanted a baby and it wasn't long before we found out that I was pregnant with a baby. We married, which seemed to be my turning point in my life. I vowed that my baby would not grow up in the same atmosphere as I had. Then, we had another baby. I started going to church on my own, without my husband, because he just wasn't interested in such things. After seven years of trying to change my husband, I had hit a wall that was, either I "love it or leave it" attitude. My ex-husband's drug addiction and infidelity were such that I could no longer bare it. We had tried rehab several times but, he continued his addictive behaviors. The last straw was when our 4-year-old daughter walked in on him trying to get a needle in his arm for a high. Sickened to my stomach – we (the two children and I) left.

I turned my life back to God and asked him to guide my path. When I did this completely, my life changed. Things started to fall into place. I got a good job, met my present husband and he adopted my two children. We had two more and the rest is history.

Not that life has been without complications, but it has been so much easier knowing that I don't have to be in control of everything. That if God is my center, it will all be okay. No matter what, I'm safe.

The old saying, "Life is what we make it", is true. In reality, every day is a new day. It can be one of joy and fulfillment, or one of drudgery and mayhem.

Jeremiah 29:11 (NKJV)
"For I know the thoughts that I think toward you, says the LORD, thoughts of peace and not of evil, to give you a future and a hope."