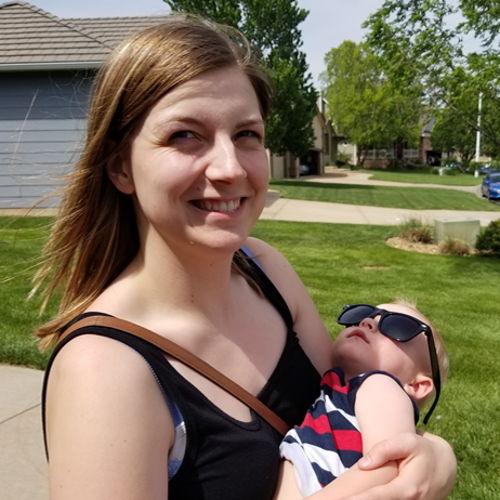 Julie H.
from KS
Story #687
I grew up in a Christian home and went to church every Sunday and every Wednesday night. When I was 7 years old, I went to a church event where the Power Team was doing a show, that's where I became a Christian! A short time later I got baptized at my church. Still strongly involved in church, growing up into the youth group, involved in choir at church and the praise team, I always thought that I was strong in my faith. Once I reached about my senior year in high school I did the typical thing that almost every high schooler does... I drifted away from church every now and then but I always came back to church and got back to connecting with Christ again.

I bought my first house when I was 22 years old and I had a roommate that was a close friend of mine from high school. Her and I would go out, drink, and have what we thought at the time were good times without even thinking about Christ or anything. We were just busy having fun but I still was involved in church. Then I met a guy, who I later married. That's when my life really started changing for the worse and I started doing things I would have never done before. I ended up marrying him. That's really when my life started falling apart. He ruined a lot of things in my life. And I ruined a lot of things in my life. I had found out right before we got married that I was pregnant. About a month or two into our marriage my husband started to not go into work, wasn't around the house, wasn't interested in me or anything that had to do with me. I found out soon that he had been doing drugs. He had a bad drug past that I was aware of but I thought he had been clean. He got very mean and abusive towards me. I just wanted to feel closer to him again and tried to make things like they used to be when we were happy. The only way that I thought would make it like that was to join him while he was doing drugs. Still during this time, I was pregnant with my son.

He was born 6 weeks early, I was having a placental abruption. He wasn't breathing on his own when he was born. He ended up being ok after being in the NICU for a few days then specialty care for about 3 weeks. During that time, I went through a lot more physical and mental abuse from my husband. I also had to work and fight to get custody of my son back after the state took him into custody because of my drug usage during the pregnancy. My husband made me quit going to church, pulling me away from my friends and my family, my job, etc.

I believe that God blessed me with my son to strengthen me and turn me back to him. I wasn't planning on having a baby for a while, but God used it for me to get back to Him.

I had to go into inpatient drug rehab for 3 weeks and do lots of other classes and things to get custody of my child back. One night, soon after being able to come home from rehab, I found my husband using drugs in my house. I confronted him about it and said if he wants us to be able to bring our baby home he has to quit all of that. That's when he punched me multiple times and shoved me up against the wall and started choking me until I almost blacked out. I fell to the ground and he went out for a smoke. While he was smoking, I finally decided I couldn't do it anymore. He came back in and knew something was wrong because he couldn't find me. (I had called the police on him before and I hid while doing so before). I ran into a closet and sat down and called the police. I could hear him running through the house looking for me and yelling for me. He said "you better not be calling the police!" I saw through the crack of the closet that he had drugs in his hand that he was yelling if I was having the police come that he was going to inject them into my neck.......I sat in the closet on the phone with a police dispatcher whispering "Please please hurry!" I seriously thought that I was going to die that night. While waiting on the phone until the police got there, all I could think to do was to pray for God to have some kind of protection over me and to keep me safe from my husband. As soon as I prayed that prayer the police showed up at the house and arrested him.

While he was in jail a little over a day and a half, I had to move all my stuff out of my house and stay with my grandparents so I could be safe again. I was so blessed to have family on town. My parents got to take in my son so he wouldn't have to go to some random home. I had to stay with my grandparents because the state wasn't letting me stay with my son full time yet.

I did everything that I could to get my son back. And I succeeded and I got him back within 3 months. From that moment on it's been amazing how Christ has shown Himself clearly in my life and to me. I believe Christ sent my son (who wasn't planned) to get me away and save me from my husband. And that led me running full speed back towards Christ.

I ended up having to divorce him. I got involved again at Riverlawn and joined a small group, which I didn't want to do at first. I thought that when people would hear my story they wouldn't want me around them or the church. But I was completely wrong, the small group that I joined welcomed me with open arms and were so loving to Lucas and I. Everyone actually ended up having a lot of similar stories in their own lives. Lucas is so happy about life and loves everyone! I have even met a strong Christian man in my small group named Brad and we are now married! He loves Christ so much and loves me and Lucas more than I could have ever imagined anyone would. Brad adopted Lucas and God has also blessed us with another son, Levi. He is such a big blessing from God also and is loving life. I never would have imagined how incredible this marriage is and how wonderful life can be.

Just know, that even when you don't see it, God has a plan, it's hard but you have to trust Him.
---
Click here to send a direct email to Julie.